Little Tots Estate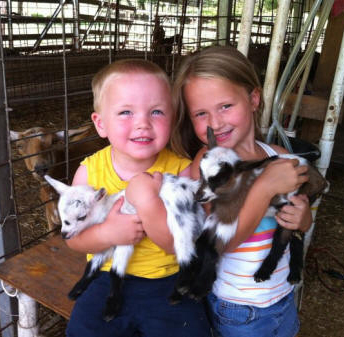 Hi, I am Rusty Repp of Loganville, Georgia.  I was raised in northeastern Ohio and graduated from Ohio State University with several horticulture and landscaping degrees.  I got a job, straight out of college, doing landscape and interior plants for the 1996 Olympics, which was held in Atlanta.  I loved the area, especially the climate, so much that I found a job and moved here in the fall of 1996. 

My first 'goating' experience started when I was in 7th grade.  I planned to get a goat to take as a 4-H project as many of my friends also had goats. One of my friends who lived close by, offered me one of their Saanen goats as my project animal.   For some  reason  I didn't jump on that offer, something just didn't feel right.  Not long after I had this offer, I saw an ad in the newspaper for a pygmy goat.  I was VERY curious and called.  That is how I got started raising miniature goats.  Little did I know that I was at the beginning of a long road FULL of goats! 
I earned my Judging license with NPGA in 2000, along with the judging license for NDGA.  Once I started judging and seeing how goats are put together and how every body part correlates with another to make the goat look and move the way it does, I became intrigued and strived to learn as much as I could about goats so I could judge to the best of my ability. 

In 2003 I was feeling a nudge that I should go try for my ADGA judges license, which I did successfully!  I was quite happy with this accomplishment, but knew that I had to strive harder and learn more about the new breeds of goats I would be judging.   Goats of all breeds have the same parts that make them a goat, the big difference is the breed character.   I learn something new while judging each show, it is impossible to know everything!  To date, I have judged over 200 shows of all breeds and I do enjoy judging.  The bigger the class the more I love the challenge of working through the animals, comparing them to each other and lining them up. 
During my early years showing, I desperately wanted someone to teach me showmanship so I could correctly show my goats.  I didn't learn till several years later and I was always surprised that the judges were not more helpful at teaching the exhibitors.  As a judge I make time to always help everyone who asks for help or who I can see needs some helpful advice.  I aim to have fun in the show ring.
We have raw goat's milk and cow's milk for sale. We are licensed by the Georgia Department of Agriculture and labeled for pet consumption which is the only way raw milk can be sold in the state of Georgia.  Email for details and availability.
Entire herd CAE & Johnes Negative, Latest CAE and Johnes testing completed September 2017.
Grand Champion Does | Senior Does | First Fresheners | Junior Does | Bucks | Breeding Schedule | For Sale | Sale Policy
Karakachan Livestock Guardians | Goats Milk Soap | Reference Goats | Zebu
Rusty and Lucy Repp
Loganville, GA 30052

reppcheeze@gmail.com
Email is the best way to contact us!
© littletotsestate.com, Website designed by Jessica Mather Marketing